Due to the COVID-19 pandemic, we are experiencing unprecedented times in our history that have an impact on our daily lives, our families, and communities with unique challenges.
Recognizing that our world has drastically changed over the last few months, with meetings now going from in-person to a virtual platform, the CSO has made the difficult but important decision to cancel its 2020 Annual meeting altogether.
In this time of great need, we are looking for ways to help our membership. For this reason, we have made the decision to wave the renewal membership dues for 2020.
Stay well and we look forward to welcoming you back to our Annual Meeting in Los Angeles in October 2021.
The next Annual Meeting of the CSO will be taking place on Saturday evening, September 14th and Sunday morning, September 15th, 2019, in conjunction with the AAO-HNSF Annual Meeting at the New Orleans Convention Center in New Orleans, Louisiana. We will be holding both CSO meetings at the beautiful Hilton New Orleans Riverside, which is the headquarters hotel for the AAO-HNSF Annual Meeting. This prime location is located within walking distance of the Convention Center, approximately 4 blocks away. (September 15-18, 2019) Please save the dates!
We are pleased to announce that this year's speaker will be Dr. Stuart McAllister of Ravi Zacharias Ministries in Alpharetta GA. Dr. McAllister has served as the International Director since 1998 and today serves as Global Support Specialist.
2020 Meeting Speaker
Program Information to follow soon!
Stuart McAllister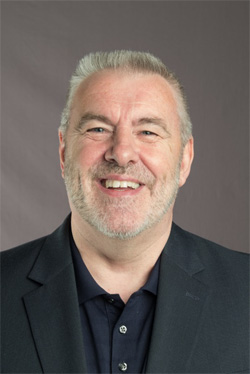 Stuart joined Ravi Zacharias International Ministries in 1998 as the International Director and today serves as Global Support Specialist. With a heavy travel schedule that takes him all over the globe, Stuart speaks in churches, universities, and other forums with the same passion he first knew as a follower of Christ. Stuart has been a lecturer at Alliance Theological Seminary in Nyack, New York, where he was honored with a Doctor of Divinity. Additionally, he has been a featured speaker several times at the European Leadership Forum.
Stuart is a frequent contributor to A Slice of Infinity, RZIM's daily reading on issues of apologetics and philosophy, Just Thinking, the ministry's quarterly journal, as well as Engage, a magazine published quarterly by RZIM Educational Trust. He has also contributed chapters in the books Beyond Opinion (Thomas Nelson, 2007) and Global Missiology for the 21st Century (World Evangelical Fellowship, 2000).